Latest Diversity News
If you are a journalist and would like to contact our communications team, please email Mel Cooper at MCooper@eeotrust.org.nz
---
Women look after needs of others first


Kiwi fashion designer Kiri Nathan had a big wake-up call after her family revealed they were worried that she spent too much time looking after everyone else.
Alongside the Symbio study, Nathan, 43, agreed to let a team of experts monitor her busy lifestyle.
Nathan's high-end fashion label has taken off since she started it in 2010. Last year alone, her designs adorned visiting stars including Beyonce, Demi Levato and Mariah Carey. She also has three children under 10 as well as two older kids.
Nathan, from Auckland, was shocked when she watched footage of interviews with members of her family who expressed concerns that she worked too hard, did not look after herself as well as she should and spent too much time attending to the needs of others.
"I had felt close to burnout a few times but with so many children plus a business and a marriage to look after, you just get on with it and forget to take time out for yourself.
"It was a big wake-up call for me. I have now improved my diet and have green juices for breakfast and eat more natural foods. I also take time out every day to go for a walk and simply take in my surroundings.
"It didn't take long for me to start feeling better mentally and physically.


"There has been a change in my mindset and I have messages written on blackboards around the house that say 'balance is key'.
"I would recommend more women take time out for themselves on a daily basis and don't beat themselves up for doing it."

From NZ Herald

Read the research here
---
Major bank announces 50/50 gender target
HSBC is the world's fourth-largest financial institution and it has annouced a 50/50 gender target for it's UK operations to help women secure top jobs.
Initiatives include:
-'name-blind' - encourages employers to accept anonymous applications only.
-External recruiters that are required to provide 50/50 candidate short lists for all senior manager roles
-'Professional Returners' programme which offeres increased support to women.

Read more...
---
Promotion & Awareness of Cultural Diversity in the Workplace
Cultural diversity can provide distinct competitive advantages in the world of small business, and all business owners can benefit from employing proactive human resources strategies to build a culturally diverse workforce. Hiring culturally diverse employees is only the first step, however. To fully leverage the benefits of cultural awareness in the workplace, companies must actively promote diversity awareness among all employees.

Read more for the Benefits, Holiday Policies, Company Leadership, Diversity Training in a cultural workplace.
---
Labour Market Reports and Trends
The Ministry of Business Innovation and Employment, MBIE, publishes comprehensive reports, drawing on the latest data, to paint a summary of labour market trends.
Highlights from report:
In the year ending September 2015, New Zealand had a net gain of 61,200 migrants, the largest increase on record.

Growth in the labour force has not kept up with strong growth in the working-age population. This is particularly noticeable in Auckland, which saw its working-age population increase by 36,800 over the year, and a 23,700 increase in those not in the labour force.
---
Why Diversity Is Difficult
View of an ex-Twitter employee:
I am passionate about Twitter the service, and I love Twitter, the company.
The opportunity to work on a product that is positively changing how African Americans are perceived in this country is humbling. Every day for almost three years, I have looked forward to making contributions to the platform that enables #BlackLivesMatter, and that amplifies the voices of #BlackTwitter.
That is why is the public commitment by Twitter to a measurable diversity goal is so important.
In 2014, 27 percent of African American, 25 percent of Hispanic Americans and 21 percent of women use Twitter, according to Pew. Only 3 percent of Engineering and Product at Twitter are African American/Hispanic and less than 15 percent are women. This is why the work many people have done, and continue to do in diversity at Twitter is so important. They are indomitable, have the will, strength and courage to change the story of diversity at Twitter.
During my time at Twitter, I experienced the pride and sense of purpose on seeing #Ferguson and #blacklivesmatter on the most prominent wall at Twitter HQ. This is something I will never forget.
And yet there were moments that caused me to question how and why a company whose product has been used as an agent of revolutionary social change did not reflect the diversity of thought, conversation and people in its ranks.
I began to understand the challenge of improving diversity when the first Twitter diversity report illustrated just how much work needed to be done. This is illustrated by the fact that even tho African-Americans and Hispanics make up > 30 percent of Twitters (U.S.) monthly active users, <5 precent make up engineering and product management combined.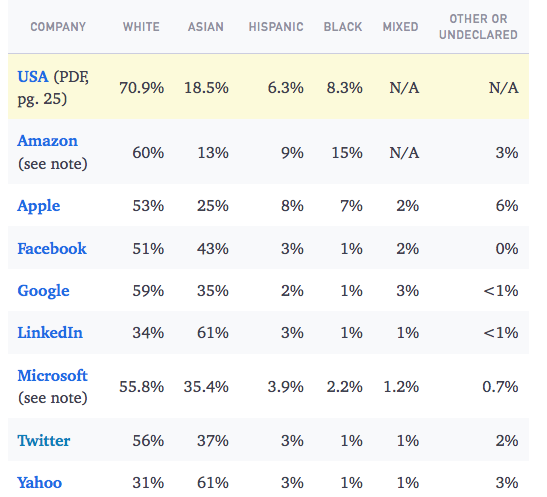 There were also the hiring committee meetings that became contentious when I advocated for diverse candidates. Candidates who were dinged for not being fast enough to solve problems, not having internships at 'strong' companies and who took too long to finish their degree. Only after hours of lobbying would they be hired. Needless to say, the majority of them performed well.
Personally, a particularly low moment was having my question about what specific steps Twitter engineering was taking to increase diversity answered by the Sr. VP of Eng at the quarterly Engineering Leadership meeting. When he responded with "diversity is important, but we can't lower the bar," I then realized I was the only African-American in Eng leadership.
In all of this I tried to remain on the diversity sidelines, this changed in early December 2014.
Twitter sponsored an event celebrating the work of Freada Kapor Klein and the Level Playing Field Institute. The former Head of the NAACP, Ben Jealous was a featured speaker. This event was attended by many a variety of leaders in tech representing a broad cross section of races, genders and backgrounds. However, the employee resource group representing Twitter's black employees (@blackbirds) did not receive an invitation.
And in June of 2015, Jesse Jackson was allowed to present at the Twitter shareholder meeting. Again, there was no communication to Twitter's black employee resource group. In comparison, when Hillary Clinton and Mellody Hobson visited, the Twitter Women Engineering resource group was notified and given an opportunity to meet privately.
Why wouldn't there be a concerted effort to invite the few African Americanemployees to these events? Is it because, as one colleague told me, "They forgot that you were black?" Is a prerequisite to working in tech as a minority that one is expected to, in the eyes of the majority, sublimate your racial identity to ensure a cultural fit? In attempting to achieve the appropriate level of blackness that makes me palatable to tech, had I unwittingly erased the importance of maintaining my blackness in a sea of white faces?
Each of these moments caused me to rethink what role I was playing at Twitter and in tech and how I could participate in dismantling what I describe as the diversity problem in tech. I want to be a leader in eliminating environments where I am the only African American in engineering leadership.
But then, in August 2015, Jack Dorsey returned to Twitter, and during a company meeting, responded to my question about committing Twitter to a measurable diversity goal. He publicly committed to diversity in front of every Twitter employee in attendance, and a few short weeks later, Twitter publishes this. And in a profoundly emotional moment, Jack Dorsey plays this video at the next company meeting.
This epitomizes the best of Twitter, and I left the meeting inspired and ready to drive the bus of diversity in engineering.
After several weeks of meetings and guidance acceptance from Executive Staff, I pitch a job proposal to focus on increasing diversity in engineering to the Sr. VP of Eng.
In the course of the meeting, he suggests that we begin tracking the ethnicity of potential candidates in the pipeline to understand better where candidates are falling out. I agreed that this is an important metric to track and conveyed that the current data we had indicated that the problem is not just the pipeline. While ethnic and gender data early in the pipeline is incomplete, we do know that in 2013, 4.5 percent of CS graduates from the top 25 schools were African-American, and 6.5 percent were Hispanic/Latino.
As we continued the discussion, he suggested I create a tool to analyze candidates last names to classify their ethnicity. His rationale was to track candidates thru the pipeline to understand where they were falling out. He made the argument that the last name Nguyen, for example, has an extremely high likelihood of being Vietnamese.
As an engineer, I understand this suggestion and why it may seem logical. However, classifying ethnicity's by name is problematic as evidenced by my name (Leslie Miley) What I also found disconcerting is this otherwise highly sophisticated thinker could posit that an issue this complex could be addressed by name analysis. (For reference, here is a tool that attempts to do that. With Jewish or African/African Americans, this classifier scored 0 percent on identifying these groups in Twitter engineering). While not intentional, his idea underscored the unconscious tendency to ignore the complex forces of history, colonization, slavery and identity.
I left that meeting wondering how I could, in good conscience, continue to work in an organization where the Sr. VP of Engineering could see himself as a technology visionary and be so unaware of this blind spot in his understanding of diversity. Leadership keeps citing the pipeline when the data does not support it. They continue to churn out ethnic and racial minorities and women but still claim a commitment to diversity.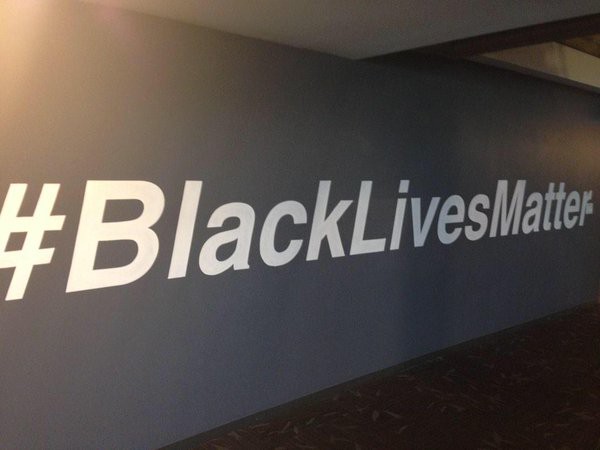 Twitter SF HQ The Commons Aug 2015
This is the last meeting of any consequence I had at Twitter. My time at Twitter is over. And I end it very conflicted. Twitter as a platform has empowered underserved and underrepresented people. It has fomented social movements and brought to the forefront of American media and politics issues that impact me personally andprofessionally.
Twitter's issues with growth and engagement and the issues with internal diversity are somewhat related. The over-reliance on a limited number of schools and workplaces for talent has caused a type of group think to dominate. Any change would be approved by people who all think alike. There was very little diversity in thought and almost no diversity in action.
To quote Mark S. Luckie:
Without a variety of voices contributing ideas, the workplace becomes a homogenized environment where potential brilliance may never be achieved. Diversity should rightly be seen as a benefit to growth, not an obstruction to avoid.
For some at Twitter, diversity is an obstruction to avoid.
With my departure, Twitter no longer has any managers, directors or VP's of color in engineering or product management. From this position, Twitter may find it difficult to make the changes to culture and product.
The return of Jack Dorsey has the potential to change the diversity trajectory for Twitter. It is my belief that Jack understands the use case of Twitter better than anyone else, understands how diversity can be additive to growth, and is committed to making that happen. The leadership that Jack is showing has been long missing from Twitter and tech. His belief in the team, his belief in what is right for Twitters users and not in building a 100 billion dollar company is what's been missing.
I did the best work of my career at Twitter. And this was possible mainly because of the incredible people who believed in each other. To my friends, co-workers, and associates, Qapla'!
And to @Jack, I leave you with "I love my blackness and yours."
This post originally appeared on Medium.
---
6 Guiding Principles to Get Ahead in Your Career
Kim Keating is a trusted advisor to numerous industry leading organizations with 20 years of experience under her belt. In this article for the Huffington Post she shares 6 Guidelines Principles that she believes will help you get ahead in your career.
"Decided what you want to be known for, and then make yourself known for it. "

Click here to read more.
Want to learn more about how you can fast track your career and get into those senior roles? Make sure you attend our Aspiring Female Leaders workshop on the 19th Nov.
Get in fast, spaces are limited!!
---
How to keep a baby boomer happy in the workplace
via Stuff.co.nz
SHANE COWLISHAW AND MARIKA HILL
How do you keep a baby boomer happy at work? No need, they're stoked to be there, new research suggests.
New Zealand has one of the highest employment rates in the OECD of aged workers, with the latest figures showing 22 per cent of workers are aged over 55.
That number is expected to balloon, with projections suggesting this will rise to 25 per cent by 2020 with many workers staying in employment well after they turn 65.
A new report from the Auckland University of Technology's Work Research Institute, which surveyed more than 1200 workers older than 55, suggests baby boomers are a happy bunch at work.
Money is not the driver, with the aging workforce more concerned about being respected and having flexible working arrangements later in life.
Those surveyed reported relatively high levels of wellbeing and low levels of age discrimination, but one in four did not believe older workers were valued in their organisation and cited biases held by managers as a problem.
While respondents were generally happy and few were considering quitting, there was a 1.5 year average difference between the ideal retirement age and when people expected to be able to retire.
Institute director Professor Tim Bentley that extra one and a half years of work was something employers would need to deal with.
"If they (employees) don't feel they are getting continuing training, development, challenging work and a job design that fits with older people's capabilities and limitations, that 18 months could be quite a challenging time."
The survey showed older employees were generally happy with their lot, but if companies managed and designed their roles to meet their requirements they would get a lot more out of their staff, he said.
Power company Vector Energy began planning for their aging workforce about three years ago, after realising a third of their staff in the Taranaki region were older than 50.
After some deeper research, it was discovered almost half of all Vector's staff were older than 45 and the company began to wonder about what was going to happen in 10-20 years time.
Vector group HR manager Paul McCloskey said advisory groups were set up to considering succession planning and individual meetings were set up with older employees to find out what their plan was.
"It was a very sensitive situation but...most of the staff were fairly open about what there future plans were."
Apprentices were now buddied to older employees to not only assist them in more physical aspects of the work, but also to soak up the knowledge senior staff possessed.
Efforts had also shifted to figuring out how to ensure older staff stayed with the company, rather than simply see them walk out the door at 65, he said.
Equal Employment Opportunities Trust chief executive Bev Cassidy-Mackenzie said Vector was in the minority, with many employers lacking plans about what would happen in the future as people got older.
A lower birth rate meant there would be a large increase in older workers and while this was not a bad thing, employers needed to start planning for it.
Older workers were often more stable employees, committed to their employer and had huge institutional knowledge, she said.
But they were often not utilised, especially at a management level, as younger staff saw them as a threat.
"These guys are not a threat, their careers are finished...they're quite happy to pass on that knowledge but a lot of companies won't use them because they see them as a threat."
Money is a motivator
Money motivates Don Deuchar, 58, to get up in the morning.
The electrical foreman said the bills need to be paid
"It's the only reason I work. If I could afford not to work, I wouldn't be working."
Deuchar said he liked supervising younger workers and handling paperwork in his role at Auckland building sites.
"Generally I enjoy it, but the stress gets too much at times."
The least favourite part of the job was dealing with client disputes and cleaning up another contractor's mistakes, he said.
Similar to the survey results, commanding respect on the job was important to Deuchar.
"We knock it into the young fellas ... people should be respectful."
And like the survey respondents, Deuchar said he expected to stay working after 65, but only for financial reasons.
KiwiSaver came in too late for Deuchar to save enough for retirement.
'I don't see the point of retiring'
Park ranger Riki Bennett expects to work past retirement age.
"It's good to be active. As long as health is on my side I'll be working. I don't see the point of retiring for the sake of retiring."
The Auckland Council employee works in the Waitakere ranges and runs education programmes on conservation.
"I enjoy the variety and interaction with people. I'm passionate about the outdoors and conservation work."
Park rangers don't get paid top dollar so money isn't a motivator, he said.
As he's aged he has become more passionate about educating people about conserving environment.
"As you get older your attitudes change. What's important in life changes and you perceive things differently."
Although his job is not without its frustrations.
He said the young people who vandalise park property annoy him the most.
- Sunday Star Times
---
Well Balanced Work
Figures from the latest New Zealand Diversity Survey show wellbeing/wellness and work-life balance are key challenges for our organisations. Bev Cassidy-Mackenzie asks are we really taking care of our greatest asset?
Read the article>> Employment Today June 2015
---
EEO Trust serves up lunchtime learning
March saw the EEO Trust launch a new training offering for businesses keen to kickstart their diversity journey. These short sharp lunchtime training sessions offer your organisation the perfect diversity overview and an opportunity to examine the various issues that can arise in the workplace. They introduce the challenge of making judgements without questioning the bias on which they are made.
Content is delivered in three customised sessions during the lunchtime period (45 mins) and brings the diversity platforms to life with examples and case studies from our Diversity Awards that include lifestyle choices, gender equity, religious beliefs, wellness programmes, parental leave and more.
In these sessions you will learn about:
Cultural diversity
Conscious and unconscious bias
Effectively managing an ageing workforce
Maximising the capability of younger workers
Employing people with diverse abilities
Preventing workplace bullying and harassment
Empowering women in the workplace and into leadership
Promoting wellness and work-life balance
Keen to stimulate your grey matter as well as your tastebuds over lunch? Register your interest training@eeotrust.org.nz and our customised training facilitator will be in touch.
---
Second quarterly diversity survey results released
This week we have announced the results from our latest quarterly diversity survey conducted in conjunction with the Auckland Chamber of Commerce and canvassing the opinions of more than a thousand businesses and organisations across New Zealand. Whilst there are a number of consistent findings from the first survey run in November 2013, there have been a couple of shifts in key measures with the diversity areas of focus being highlighted as an ageing workforce, staff wellbeing, flexible working and bullying and harrassment. Read the full story here.
---
Watch us on HRM online TV
EEO Trust CEO Bev Cassidy-Mackenzie discusses the importance of workplace diversity and how to address it. Click here to see the interview.
---
Worrying poll on staff engagement
In New Zealand, we're fortunate to have one of the highest rates of employee engagement in the OECD but it's still just 24 per cent. According to the survey, 60 per cent of our workforce is not engaged - they're sleepwalking through work and doing the hours but not going the extra mile or feeling inclined to - and a further 16 per cent are actively disengaged, which means their unhappiness infuses everything they do at work.
In an interview with the New Zealand Herald, EEO Trust Chief Executive Bev Cassidy-Mackenzie, talks about why employee engagement should be high on the list of strategic priorities for organisations of all sizes and the business benefits realised by those who develop a culture that motivates and rewards staff. Read the full article here.
3 March 2014
---
Women's Empowerment Principles (WEPs) New Zealand
News and Releases
---
Congratulations Buddle Findlay for becoming a WEPs signatory
The law firm Buddle Findlay is the most recent organisation to join the Women's Empowerment Principles.
---
Women's Empowerment Principles (WEPs) Regional Pilot in Gisborne
Vicky Mee
The New Zealand WEPs committee has had great success in attracting signatories from companies based in the main centres but to date there has been little promotion of the WEPs in regional areas. This is all changing in 2015!
---
New research: UN Women's Empowerment Principles survey results for NZ
Diversity of thought and decision-making is the key motivator behind the recruitment policies of some of New Zealand's largest organisations, according to research presented for the first time at the White Camellia Awards event.
---
The White Camellia Awards: What the winners have learned along the way...
What the winners have learned along the way …
A common theme among the White Camellia Award winners was that they are on a journey and that achieving gender equality requires lots of small, conscious changes in every part of the business.
---
---